April 25, 2011
Ministry Journal
No Comments
WHAT'S UP?
Heartfelt Music Ministry is in full swing, continuing to lead others toward intimacy with God.  There's a new welcome video on our homepage and some updates to the website you may like (CDs are now only $5 each with a special deal on the 8 CD bundle).  I'm teaching more private lessons and I'm accepting new students who are motivated and passionate to learn.  I led worship at Sugarpine Christian Conference Center's "Mountain Men" Father/Son retreat.  Austin joined with me and we did some worship leading together which was really fun (there was snow too!).  Next weekend is Sugarpine's second Father/Son retreat and I'll be leading worship for that as well.  Right after that, next Sunday night, May 1, will be the Cede concert (see below).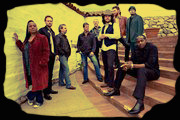 CEDE CONCERT & CD RELEASE
Come enjoy the band I'm in called Cede.  We will be performing in Milpitas for our debut CD release party. I'll be opening with another vocalist with worship songs. Then comes the concert with outstanding songs by Scott Metcalf and myself.  You will be pleasantly surprised by these professional musicians united in glorifying God with outstanding music. Admission is FREE, but call Rocket Dog Music to reserve seats 510-432-4540.  It will be from 6:00 pm to 8:30 pm at Park Victoria Baptist Church, 875 South Park Victoria Drive, Milpitas, CA 95035.  We have hit #1 on the Reverb Nation Christian/Gospel charts.  Check out the site at http://www.reverbnation.com/cedewest.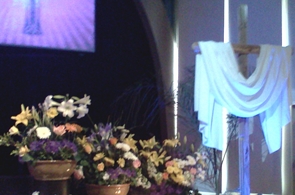 HOPE YOUR EASTER CELEBRATION WAS RICH AND MEANINGFUL!
After a slew of rain, slides and fallen trees here at Mount Hermon, we're now enjoying the sun and the warmth of Spring.  Isn't that like life?  We plow through the unexpected twists in the road and inconvenient surprises, sometimes devastating circumstances.  Then comes the beauty of the sun, which was there all along but hidden by bad weather.  It's like the beauty of the risen Son, who is there all along but hidden by trials and tough times.  May you experience the newness and joy of life in Christ today (even through your troubles-James 1:2-4)!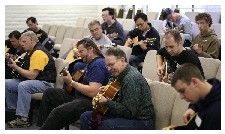 WHAT HEARTFELT MUSIC DOES
Keep your ears open and spread the word that Heartfelt Music can enhance and help others in their ministry endeavors.  What can we do?  Here's a partial list of ways we can help:
Worship leading for church services, events and retreats
Motivational speaking for church services, chapels, events and retreats
Training through conferences, workshops, courses, mentoring tours, and private lessons
Concert artistry to motivate and encourage through stories, humor, and quality music.
Performing at weddings and other events
Disc Jockey events like wedding receptions, parties, and other events
Recording your music and producing your songs
Consulting on worship, music, team building, and leadership.
Leading worship Sunday mornings stays pretty filled up but there is one Sunday open May 8th for me to come minister with your church.  The next free Sunday is not until July 3rd.  Let me know if I can come to your church to help out.
May God keep you strong, walking confidently in His resurrection power.
Isaiah 12:2,
Reggie Coates
Executive Director,
Heartfelt Music Ministry
PO Box 3
Mount Hermon, CA  95041
(925) 206-9895
[email protected]
https://heartfeltmusic.org