.


On this page:
About Reggie Coates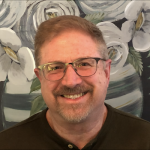 Reggie has a love for God and others that is contagious and touches people's lives in a powerful way. Through his passionate music and stories, he refreshingly encourages others to an active faith, revitalizes joy, inspires transparency, renews hope and draws us to a loving relationship with God. Whether it's in a concert, teaching music, leading worship or sharing from God's Word, Reggie puts a focus on the priority of knowing God through Jesus Christ. With a balance of skillful artistry, human experience and spiritual truth, he lives out the verse from Psalm 33:3, "Sing to the Lord a new song; play skillfully with a shout of joy!"
Reggie resides in Mount Hermon, California, with his wife and two boys. He has been actively involved in music ministry for over 40 years. Although he has believed in God all his life, he accepted Jesus as his Savior and Lord at the age of 12 through seeing Jesus alive in his youth pastor. This has caused a main theme in his life to be "Christ in you, the hope of glory" (Col. 1:27). Stemming from his relationship with God, the Mission Statement for his life and ministry is to lead others toward intimacy with God.
Reggie received a Bachelor of Arts degree in Music (Performance) and a Teaching Credential in Music (Education) from San Jose State University. He received a Master of Science degree in Entertainment Business from Full Sail University. He graduated from the Pastoral Training School at Peninsula Bible Church, Palo Alto, under Dr. Ray C. Stedman, and is a licensed minister. He has taught music in public and private schools (elementary through college), ministered as a Youth Pastor (Jr. High age through college age) and ministered as a Worship Pastor. He was an adjunct professor at San Jose Bible College for 8 years and Bethany University for 4 years.
.
Currently, Reggie is the Executive Director of Heartfelt Music & Ministry, Inc.  (1998-Present) and ministers full-time at Valley Christian Schools in San Jose (teaches music, coordinates the chapels, and is the Music Arts Department Chair for the High School). He coordinates the Summer Concert Series for Mount Hermon Conference Center. He is an Avid Certified Instructor in Pro Tools (leading music recording software) and Sibelius (leading music writing software).
He has performed and led music/worship at many conferences and colleges such as Azusa Pacific University (Mexico Outreach for 10 years before Easter), Biola University, Westmont College, Spirit West Coast, Youth Specialties' National Youth Workers Convention, National Network of Youth Ministries, NAMM Show, Christian Musicians Summit, Mount Hermon Christian Conference Center, Hume Lake Christian Camps, Forest Home Christian Conference Center, Mount Gilead Bible Camp,  Silver Spur Christian Camps & Retreat Center, Hartland Christian Camp, Alliance Redwoods Conference Grounds, Christian Artists Music Seminars in the Rockies,  Christian Artists Europe and many other Christian organizations. He was the featured acoustic & electric guitar instructor at the National Worship Leader Conferences in 2010 and the featured electric bass guitar instructor in 2011. He has performed the National Anthem at the Sonoma Raceway each July 2009-2013.  He continues to sing and teach at conferences, church retreats, youth events, worship services, outreach events, and music festivals.
He is an award winning songwriter (three songs at the Christian Artist's Music Seminars in the Rockies, All For You, Slow Me Down, and Peace).  His song Ain't Nobody has been on the CCLI top 100 songs list used by churches around the world, has been recorded by over 12 artists and bands, and has been published by Brentwood-Benson Music Publications in their book Crazy Praise Volume 2.  His songs Celebrate! and Shout have been used and recorded in Europe by the Continental Singers.
As founder of the Christian Guitar & Bass Conferences, he continues to lead guitar and music workshops, training others in ministry. He has recorded 18 albums with his most recent entitled Instrumental Guitar Vol. 2.
.
About Heartfelt Music & Ministry
Heart to heart and person to person, Heartfelt Music Ministry touches lives for Christ in a unique way. This exciting ministry has a high spiritual impact, drawing many to a closer relationship with God and developing healthy worship practices, skillful and faithful musicians, and loving relationships throughout the Body of Christ. Our goal and Mission Statement is to lead others toward intimacy with God and excellence in artistry through quality worship leading, concert artistry, training/coaching, and motivational speaking. In a nutshell, we exist to support, and equip the Body of Christ.
Thirty Six years ago, this ministry started as Heartfelt Music & Creations. Then in 1998, we became a nonprofit 501(c)(3) organization and changed the name to Heartfelt Music & Ministry, Inc. (AKA Heartfelt Music Ministry; Heartfelt Music Academy; or simply Heartfelt Music®). Through quality music and teaching, we are here to serve you and enhance your ministry. Please, let us know what we can do to help.
.
How to Contact Us
Email Address:  [email protected]
Mail Address:  PO Box 3, Mount Hermon, CA  95041
.
Joining the Support Team
PRAYER SUPPORT: With the many aspects of such a diverse ministry as this, we need help in a variety of areas: administration, promotion, data entry, volunteer help, etc. But the most significant way you can help is through prayer. We need lots of prayer! We know activities are hollow unless they are filled-out with God's Spirit. We would really appreciate your support through regular prayer.
FINANCIAL SUPPORT to Heartfelt Music Ministry is a wise investment. Our mission of "leading others toward intimacy with God" is the thrust of God's heart. This gives us our compelling vision to use quality music, worship leading, training, and motivational speaking to encourage, inspire, and equip each person to draw closer to God. The effective use of your donation causes timely productivity in bringing this vision to fruition. Please consider a one-time gift or regular contribution to Heartfelt Music Ministry which is tax-deductible. As Paul said to the Philippians I say to you, "I thank my God for you all, in view of your participation in the gospel from the first day until now (Phil 1:3 & 5)."  Thank you for considering investing financially. See "How to Make a Donation" below.
We would be honored and so grateful for you to choose us as your ministry/missions organization in giving regular financial support. Since we are a nonprofit 501(c)3 ministry, your tax-deductable gifts propel this ministry and open doors for international support of other missions organizations (as we've been involved with Mexico, Russia, Albania, Canada, and the Netherlands). We've been asked to be involved oversees, but most organizations are unable to pay anything (one example is Mexico Outreach through Azusa Pacific University). Thank you for your timely consideration. If you have any questions, email us or call me at (925) 206-9895.  See "How to Make a Donation" below.
.
How to Make a Donation
Click here to go to our Support page.  You can donate a one-time gift or support Heartfelt Music Ministry monthly.  Every gift is gratefully appreciated.
.
The Board of Directors and Officers
Heartfelt Music Ministry is stewarded by four Board of Directors…godly individuals who strongly believe in what we do. They are from all walks of life. They volunteer to give direction and oversee the integrity and scope of this ministry. Also, Heartfelt Music Ministry has three Officers who handle the organizational and day to day aspects of this ministry.
Reggie Coates – Officer, President/CEO
From Mount Hermon, CA
Music Educator, Valley Christian Schools
Lindsey Coates – Officer, Secretary
From Aurora, OR
Assistant Director of Annual Giving, George Fox University
Mike Kennedy – Director, Board Chairman;
From Boulder Creek, CA
Engineer
John Tounger, CPA – Director/Officer, Treasurer;
From Oakland, CA
Certified Public Accountant
William K. Mayfield, AIA – Director
From Mount Hermon, CA
President of NAI Architecture
Bryan Hayes – Director
From Mount Hermon, CA
CFO of Mount Hermon Christian Conference Center