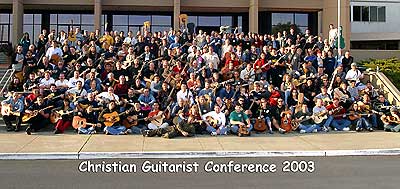 Welcome to the Heartfelt Music Academy Conferences Page.  At the present time, there are no conferences scheduled.  Stay tuned for more to come!  We have presented a number of conferences throughout the years such as the Christian Musician's Institute and the Effective Songleading Conference.  But the most popular one has been the Christian Guitar & Bass Conference.
The Christian Guitar & Bass Conference

The Christian Guitar & Bass Conferences continued for sixteen years in Northern California, nine years in the Chicago Illinois area, and even one year in Southern California, North Carolina and Oregon.   The Christian Guitar & Bass Conference is geared uniquely to train and motivate Christian guitar and bass players in skill and faith.  Among the many advantages of getting a group like this together, some main goals are to equip Christian guitarists and bassists to play more skillfully, challenge them to be more creative and help them apply their Christian faith to music.  It is an excellent opportunity to meet other Christian guitarists and bassists in order to network and share with each other.  There are professional Christian Artists in concert, electives for skill & spiritual enhancement and question/answer sessions with the artists.  Anyone who is a Christian, a guitar or bass player and at least 12 years old is invited to attend.
History
In 1993, I remembered sitting three feet away from Phil Keaggy at the Christian Music Seminars in the Rockies and was so impressed by his playing and his life.  I thought how great is would be to get Phil to come to the Bay Area and inspire other guitarists to play for God's glory.  I asked Phil to come out and play at the first Christian Guitarist Conference at Ponderosa Lodge, Mount Hermon.  175 showed up for the Friday/Saturday event and we had a blast.  Phil stayed up until midnight on Friday jamming with others and demonstrating his songs close up.  Everyone enjoys Phil so much, we had him another 9 times over the years.  Since the first one, we've brought in a slew of artists to share their music and faith with conference attendees.  Some of the artists were Lincoln Brewster, Randy Stonehill, Norm Stockton, Paul Baloche, Adam Nitti, Wes King, Jay Leach, Rick Foster, Doyle Dykes, and Pete Orta.  Some of the instructors were Rich Severson, Marc "Coop" Cooper, John Standefer, Sandy Hoffman, Mark Kenoly, Avery Stafford, and Tim Abbott.  The largest conference had 385 guitarists!  It was amazing to have that many guitarists in one place playing a song all together.  Because of the extensive cost of putting on one of these conferences, we have not done one for a few years.  I am still providing training workshops and guitar clinics.
Thousands of lives were changed over the years because of these conferences.  Here's one testimony:  "Hey Reggie, glad I found a link to you! I was at the guitarist conference in Castro valley last January. WOW! I'm just now coming down off of the high if you know what I mean. It was and is still difficult to get past the awesome gift that Phil Keaggy has been given. I certainly have been inspired. His music took me way back to when I first believed. There were tears welling up during the concert. I often took for granted my ministry as a church guitarist…So as a result of the conference I'd say that I have been refreshed and strengthened. I have even begun to try to improve my playing. I want to play skillfully, unto the Lord, right? So I went so far as to buy a Boomerang. What a great tool for practice. I have even worshipped alone while practicing, moved even to tears. What is Happening? You know, I have played the same chord progressions for years, but now I realize that the guitar also functions when one utilizes that part of the neck where it attaches to the body! I always wondered why they put frets down there. They seemed so far away before. Well thanks for putting this together for everyone. Well I gotta go get ready for church, so God Bless you."
George M., Conference Attendee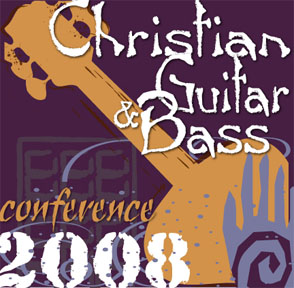 Electives, the Levels of Ability
There are challenging and stretching Electives for four different levels.  The instructors have been playing for many years and are known for being very encouraging and motivational in their teaching.  The following are general categories for skill levels.  It's up to you whether you choose a comfortable level or a challenging one.
I – Beginning guitar electives are for those who cannot play a barre chord. This ranges from only knowing a few chords to knowing many chords, yet not having the strength to barre. This category is also for those who have never played before. Beginning bass electives are for those who are just starting or would like the essentials to launch their playing.
II – Intermediate guitar electives are for those who can play barre chords, know most of the chords in open position, can move quickly from one chord to another without looking and are familiar with a variety of strums and finger-picking patterns. Intermediate bass electives are for those who have been playing for a little while and have the basic techniques to play in a band.
III – Experienced guitar electives are for those who can play chords out of first position, know and can play scales, are familiar with hammering, pull-offs, bending, sliding (and other expressive techniques), are able to play many strums and finger-picking patterns, and generally understand music theory. Experienced bass electives are for those who have played bass for a some time, have a very good grasp of bass playing technique, know scales and understand basic music theory.
IV – Advanced guitar electives are for those who have a firm grasp on all chord types and positions over the entire fingerboard, can play scales, licks and tricks with ease, are able to play strums and finger-picking patterns with creative expression and understands music theory. Basically, they have been playing guitar for a long time making it almost second nature. Advanced bass electives are for those who are excellent in their technique, understand music theory, have skillful expression, and can play a variety of styles
The Worship Band Interactive
The Worship Band Interactive is a great opportunity for guitar and bass players to experience how to work together with a band while leading up front. They experience playing with other singers, keyboardists, drummers, percussionists, bassists as well as other guitarists. The conference guitar and bass players see how to work with other band members in maximizing sensitivity, variety, expression, and cohesive tonal synergy. They benefit from interaction and discussion with the instructors and musicians.
The Gear Exchange and Exhibit Hall

This is where outside vendors and participating musicians can buy and sell new and used equipment at the conference. It's helpful to have a place where you can see what's available as far as gear and music, offer your own products and music, and buy equipment on the spot for a reasonable price.  A local music store even provides a good selection of guitars and accessories like capos, strings, and tuners.