September Newsletter 2021
September 10, 2021
12:07 am
Ministry Journal, Upcoming Events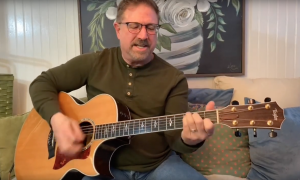 Streaming Concert This Sunday
This Sunday, September 12, 5:00pm, I'll be streaming a live concert through Facebook Live sharing songs from my new Instrumental Guitar, Vol. 2 album as well as other songs. The concert will be on the Heartfelt Music® Facebook page. Click Here to join the fun. You can view my last concert by clicking here. There are 10 songs on the album and the titles are:
Abundant Sunshine
Oh Snap!
Java Jumpstart
Worthy and So Wonderful
Ruminate on Grace
Untied Shoelaces
Peacock Blue
Building Trust
Bossa Nova Baby
Andantino
I'll be explaining a little about each song this Sunday, but you can watch 4 videos I created to highlight how the album was made.
Instrumental 2 Album Production Videos:
I will also be singing at least one song from each of the albums listed below. You can hear how each song sounds at a special page with HearNow.com and these pages will point you to a number of streaming platforms that carry my albums. Check out:
Hope to catch you Sunday!