Worship Matters Book Insights – Part 1
August 14, 2011
4:22 pm
Think About It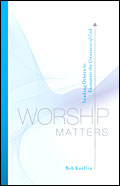 The book by Bob Kauflin called Worship Matters is very helpful for any ministry to gain clarity on the ultimate priority of God:  Worship.  I agree with Matt Redman's comments, "Bob loves God, values theology, and cares about people.  This mix is found throughout this wonderful and helpful book.  Worship Matters will inspire you as a worshiper and spur you on as a leader of worship." This blog post is a forum where you can comment and interact on the book.  Anyone can join in and add to the insights.  The book is divided into four sections which we'll take some months to explore.
Part I – The Leader
Part II – The Task
Part III – Healthy Tensions
Part IV – Right Relationships
.
In this post, let's dive into Part I on The Leader. A leader is anyone in front of others who is influencing them (singers, readers, drummers, etc.).  I like how Bob describes many of the little things that consume us as leaders:  what people think, attitudes, musicians not showing up, and even technical things going wrong.  However, the most important thing is giving worth to God.  Worship matters to God because He is the one ultimately worthy of all worship.  It matters to us because we are created to worship God.  It also matters to leaders because it is one of the greatest privileges to lead others to encounter the greatness of God.
.
The next four chapters identifies four important aspects of leaders:
My Heart:  What Do I Love?
My Mind:  What Do I Believe?
My Hands:  What Do I Practice?
My Life:  What Do I Model?
.
What are you doing with your heart? We live in a culture obsessed with idols.  Bob explains how he was seeking his own glory and went through a major depression because of it.  He discovered he could lead others in worshiping God while he was worshiping something else in his heart.  God has made it clear "You shall love the Lord your God with all your heart and with all your soul and with all your mind" (Matthew 22:37).  Bob states that "what we love most will determine what we genuinely worship (p. 25)."  As we value and love God more than anything else, we will respond in appropriate worship from our hearts.
.
What are you doing with your mind? If you truly know God, you will want to know more about Him.  What do we believe about God?  Have you taken time and energy to know Him and know about Him?  It's important that we get our minds engaged by developing our theology and docrine through Scripture.  As a young Christian, I was encouraged to memorize Scripture which has helped me in my understanding and in my leading.  I can share the "thoughts of God," which have eternal significance rather than my random thoughts.  Some think that studying about God shouldn't be hard…they would rather spend more time on a cool "lick" than dig deeper into a topic like "glory."  Some think they can know God better through music than through His Word…though music truly moves us, truth transforms us and gives music its meaning.  Some think theology and doctrine cause problems…instead, theology and doctrine rightly applied will solve problems.  Mind and heart belong together.  May we be as familiar with the Word of Truth as we are with our instruments (or more so).  "If we do so, there's a strong possibility people are going to walk away from our meetings more amazed by our God than by our music" (p.32).
.
What are you doing with your hands? What you practice will develop who you are.  Skill is important as God has commanded in Psalm 33:3, "…play skillfully with a shout of joy."  There's a difference between trying and training.  If you are one who trys hard, you may get better, but it will be almost by accident.  If you are one who trains hard, you will get better faster as you intentionally work with disipline and initiative.  Skill is a gift of God for His glory.  It must be developed.  It is not an end in itself, but helps us focus on God and serve in many ways.  We not only need to be skilled in our craft (singing, media, sound engineering, etc.), but we should develop other important areas like leadership, communication, and technology.  Let us give ourselves to the diligent practice and careful attention necessary for biblical leadership.
.
What are you doing with your life? God wants us to be a good example to others, not only "up front," but in our daily lives.  Paul told Timothy to "set the believers an example in speech, in conduct, in love, in faith, in purity" (1 Timothy 4:12).  In speech, we must be very careful with what comes out of our mouths.  Last year, a young drummer on a worship team had to step down for a season because of some bitter and inappropriate words on his social media blog.  In our conduct, we must be above reproach.  What we do makes a difference as people are closely watching us.  We must build our reputation so people can trust us.  This trust is what gives us the connection to people to genuinely lead them.  In love, we demonstrate the greatest commandment of God:  loving God first and then others as ourselves.  In faith, we truly believe Jesus is alive, God is present, the Spirit is at work right now!  Lack of faith can hinder your ministry.  God promises to "reward those who diligently seek Him" (Hebrews 11:6).  In purity, means our character makes a big difference.  Christ demonstrated on the cross how serious God is for us to be pure.  How are you handling your sexuality?  Your anger?  May we model the Christ changed life in how we live daily.
.
What do you think?  Your comments are welcomed and encouraged no matter how big or small.  Thanks.