July Ministry Update
July 6, 2011
9:09 am
Ministry Journal, Upcoming Events
Reflecting on the Fourth of July, we can be thankful to God for freedom!  With less than two months left for summer, it's good to plan it out and make sure the important things don't slip by.  The following events are ones you will not want to miss.  Thank you for your encouragement and continued support through Heartfelt Music Ministry as we strive in God's strength to lead others toward intimacy with God.
.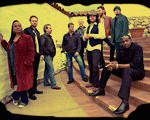 Cede and Reggie in Concert This Friday, July 8, at 6:30pm
Cede is holding its second concert since the release of the new CD called New Beginnings.  It will be at Christ Community Church, 1000 S Park Victoria Dr Milpitas, CA 95035, at 6:30pm.  I will open up the concert with a 45 minute set, then the band will be playing hot tunes off the CD and some kickin' praise songs like Trading My Sorrows and Ain't Nobody.  I'm playing acoustic guitar with these 8 other skillful musicians.  Listen to the songs and check us out at http://www.reverbnation.com/cedewest.  Come join us Friday, July 8th at 6:30pm (in the Coffee Shop venue).
.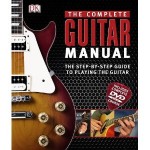 Guitar Camps Begin Saturday, July 9th

I will be holding four one day Guitar Camps this summer in my home, limited to a five participants for each session.  It is more of an intimate setting with personal interaction and attention.  They are held on Saturdays from 9:00am to 1:00pm.  Because they are limited, make sure you get in the Application Form right away.  The curriculum is more intensive  in order to get a lot in, but the camps are intentionally divided up to benefit certain age groups and skill levels.  The camps are held in beautiful Mount Hermon.  They include three hours of instruction, a delicious brunch, a challenging training/resource book (The Complete Guitar Manual, with DVD, 2011), a notebook, and relevant handouts.  All the information is at our website under courses/camps.
July 9 – Beginning Guitar Camp (Ages 13-Adult)
July 16 – Intermediate Guitar Camp (Ages 9-12)
July 23 – Beginning Guitar Camp (Ages 9-12)
August 13 – Intermediate Guitar Camp (13-Adult)
August 20 – Advanced Guitar Camp (13-Adult)


.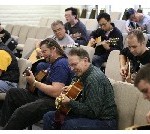 Christian Guitarist Fellowship
The Christian Guitarist Fellowship is back.  Everyone is invited from beginners to advanced players, from rockers to alternative players, from acoustic to electric players, from teenagers to the ageless.  Come and meet guitarists from all over the Bay Area. Heartfelt Music Ministry is holding the Christian Guitarist Fellowship to help motivate you in your guitar playing and encourage you in Christ. There will be a short lesson for all levels; we will have breakout "jam" sessions where you pair off with those in their your skill level; we will play some worship songs together; a few will perform in front of everyone; we'll pray together; and we'll discuss resources for guitarists in the Bay Area. It will be a fun fellowship and it's free! Even those who have never played before, but want to learn to play the guitar are welcome. It will be at Open Door Church Mountain View, 1667 Miramonte Ave., Mountain View, CA 94040, on Sunday, July 10th, from 2:30pm-4:30pm.
.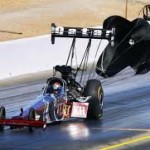 National Anthem at the Infineon Raceway
I'll be playing the National Anthem on electric guitar on Sunday, July 24, to start the races.  Racers For Christ will also be holding three Chapels that morning in which I will be leading worship for.  It's a very exciting event with dragsters, funny cars, and motorcycles racing throughout the day.  Christian racers are so grateful for the chapel fellowship and teaching during these events.  For more information, contact one of the Racers for Christ chaplains, Bob Hadidian, at (805) 801-7579.
.

National Worship Leader Conference
I'll be teaching some workshops at the National Worship Leader Conference, July 18-21, in Kansas.  Their emphasis this year is Engaging With God.  If any of you would like to go, you can get a 10% discount by using the discount code COATES.  It is a wonderful time for renewal and inspiration with some of the world's leading artists, teachers and worship leaders (Jack Hayford, Matt Redman, Casting Crowns, Tim Hughes, Tommy Walker, Rebecca St. James, to name a few). Go to the National Worship Leader Conference website for more details.