December Personal Update
December 31, 2010
2:49 pm
Reggie's Journey
I can't believe it's the last day of 2010.  God has shown Himself so alive this year through some of the most memorable times both good and bad.  Watching God work around me and experiencing God work through me is faith-building and incredibly encouraging. "Thank you, Lord, for your presence and care throughout 2010!"
This year has had its ups and downs.  The poor economy has affected me and my family in significant ways.  At the same time, we are amazed at people's generosity and care.  Friendships are such an encouragement in tough times.  Thank you for your prayers for us and inspirational notes along the way.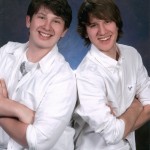 We have grown closer as a family also which has given us a stronger platform to minister to others.  We had the scare of health issues which turned out to be nothing.  I lost my job in June which launched me back into a Bay Area wide ministry.  My sons are growing up with such maturity for their age, making great decisions.  They have really enjoyed school this year.  Now 16 and 18, they are both into driving.  Sherri had a blast being involved with the Mount Hermon Christmas Crafts Boutique this month and will be involved with crafts more this year.
I've been doing well spiritually, physically, and mentally.  I know it's not an accident as it takes work (or should I say God compels me to be disciplined?).  I'm still daily reading Scripture and regularly study God's Word which gives me perspective, direction, and nurtures/renews my spirit.  I'm thankful to a handful of guys that meet with me monthly to hold me accountable and faithfully pray for specific needs in my life.  Time alone in the car traveling has given me hours of prayer time to grow more intimate with God.  Physically, I'm daily exercising and keeping in shape.  I just performed a demonstration of Tae Kwon Do, Korean sword fighting and nun-chucks for about 100 children at a church in Martinez…very fun!  And I'm staying sharp mentally as I work with so many people, helping them on their journey, encouraging teamwork and leading them toward intimacy with God.
Praise God from Whom all blessings flow
Praise Him all creatures here below
Praise Him above ye heavenly hosts
Praise Father, Son, and Holy Ghost
Amen!