December Ministry Update
December 14, 2010
3:01 am
Ministry Journal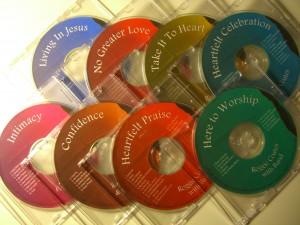 I now have eight of my recordings available on CDs.  People have been asking me to put my first 3 recordings on CD since they were created on cassettes only.  Now they are available!  Also, Confidence and Intimacy have been out of print for some time now, but they are available now. You can even pick an 8 CD Bundle of all my CDs available for a fantastic discount.  The CDs included are:
~ Here To Worship
~ Heartfelt Praise (Disc 1)
~ Confidence
~ Intimacy
~ Heartfelt Celebration
~ Take It To Heart
~ No Greater Love
~ Living In Jesus
Click here to go to our updated "Products Page" and order some.  You'll hear songs such as All For You and Peace which are award winning songs recorded only on these early collections.
I have accepted a new position as Interim Worship Leader with Open Door Church in Mountain View as I continue ministering with Heartfelt Music Ministry as well. Thank you for your prayers during this decision of which position to take and continue to pray for this new adventure starting the end of December.  I'll be finishing up as the Interim First Service Worship Director of First Presbyterian Church of Hayward at the end of this month.  It has been such a good experience and I have grown in love with the people.
Private lessons are one of the most fulfilling things I do.  Training and coaching musicians to thrive in their skill and use it to glorify the Lord.  I am teaching in Danville, San Jose, Los Altos, and Mount Hermon.  If you know of anyone who would like private lessons, let me know. [click here to find out more about lessons]
December sometimes means an end-of-the-year giving for businesses and individuals.  However, this year is pretty tight for everyone.  As you know, Heartfelt Music Ministry is partially supported by contributions, so if you feel led to give at this time, we would appreciate it so much.  We are behind this month and could use some extra help.  Thank you for your generous support!  Each gift is tax-deductible [click here to read more about donations].